Pinturas Montana, C.A. (currently Corimon Pinturas, C.A.) is one of the first factories in the Venezuelan paint market. Founded in 1949, began operations under the "Montana Fábrica de Pinturas" name very quickly established itself in the domestic market during the 50's.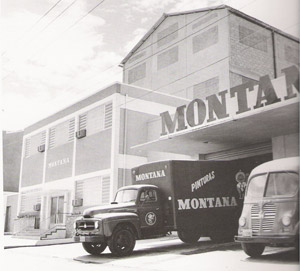 In 1959, Montana Gráfica was formed as the Corimon Group second subsidiary and later, in the same year, Resimon was created in order to meet the Pinturas Montana needs regarding with resins, with that the resins import was replaced. Since it's inception Montana Gráfica as well as Resimon, operated as independents companies towards Pinturas Montana.
Once established in the architectural market, Pinturas Montana, began working in the industrial maintenance, wood, marine and automotive markets. In the latter case, funds were developed to serve as a basis for the paint application, making Chrysler and General Motors its first costumers.
The Group began to contribute to the development of the country, not only through investment in the industrial sector, but making steady contributions to education and culture, through foundations and cultural centers, as the corporate social responsibility is considered very important.
The first major project of Pinturas Montana, was during the presidency of General Marcos Pérez Jimenez, consisted to paint the tunnels of the Caracas-La Guaira highway. For this work a special additive that largely avoids the adhesion of dirt and dust was developed, which protected the tunnels and had its painting in good condition for many years.
In the early 70's, Grafis, Cerdex among other companies joined the existing ones.
In 1993, Corimon foray into the capital market, through the trading of it's common stocks on the Caracas and Maracaibo Stocks Exchange, and also through it's ADR's on the NYSE.
In 1994, the company focused mainly on the paints market, benefited from its position as one of the largest private and respected business groups in Venezuela and through their companies Montana, Pinco Pittsburgh, Wantzelius, Construcentro, Cerdex, Colorin, Sissons Paints, General Paint Company and Standard, started operations in Mexico, Colombia and the United States southwestern coast, while strengthening its operations in Venezuela, Argentina and the Caribbean.
Nowadays, Corimon Group has been focused in the domestic market and is absolutely vanguard in terms of market share in all areas where incursions. In turn, has in his productions high technology equipment, highlighted in its organization, its high standard of quality and financial strength.